Are you interested in the complex identity struggle present in every Quebecois yet left puzzled by its absence from musical exploration? Well, fear not, Chocolat and their latest album, Jazz engagé, are here to fill the gaping hole within your soul. The Montreal quintet's November 2019 release answers the question, "What if T-Rex, My Morning Jacket, Dungen and King Gizzard bonded over their shared love of poutine and ice hockey?"
Much like the culture of Quebec, not entirely French and not entirely Canadian, the album strikes a balance between many distinct and seemingly unrelated genres. Over the course of 55 minutes, you will find yourself listening to psych rock, rockabilly, lounge jazz, hardcore metal and many things in-between. Yet, not a single track feels out of place or shoehorned in. This isn't a case of slow and gradual melding of genres either, the switches in style are abrupt, but each is carried out without a hitch. Example in point, the tracks "Devil c't'a tout le monde" and "Valdivia," a Judas Priest style thrash metal track which immediately leads into a Mac DeMarco-esque song about sea lions drinking Pisco Sours. Put simply, this album cannot be categorized under any label other than Chocolat.
There is also an inherent sense of playfulness and humor in the album. Chocolat is a band that doesn't take itself too seriously in the best of ways. The album is bookended by two obvious tongue in cheek tracks that drive this point home. "Merci", the final song on the album ends with pre-recorded applause from what sounds like a Beatles concert while lead singer Jimmy Hunt thanks the fake crowd with faux emotion similar to the way Conan O'Brien calms down the audience after being introduced onto an episode of his late night program. The same type of energy was introduced to the album from the get-go and the first track "L'album." The lyrics of which contain the titles of the rest of the songs on the album with the bold punctuation, "C'est f*cking contemporain!" and "C'est totally mind blown!" Bold yet true words from what must be one of the most unique albums I've heard from 2019.
~ Owen Callahan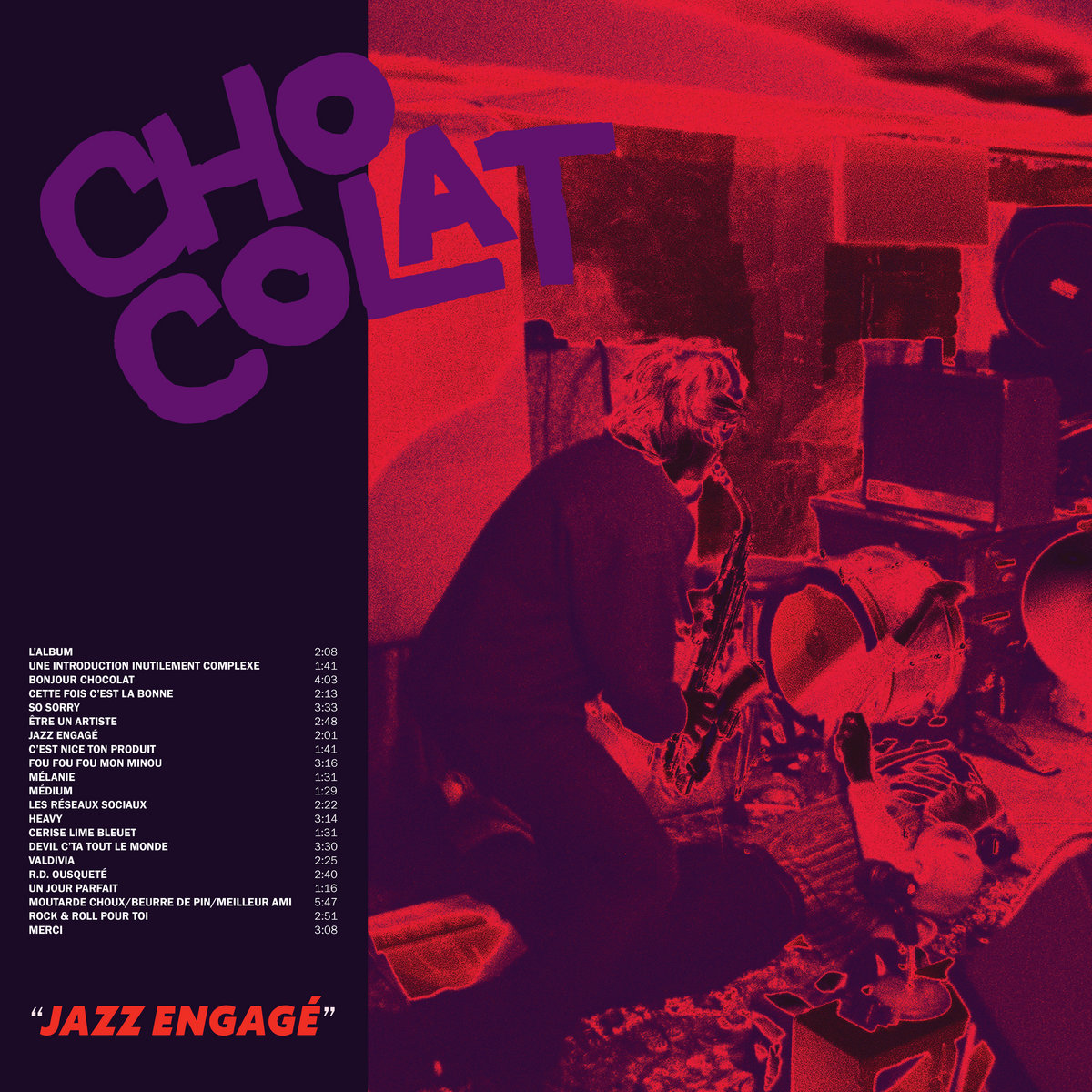 ---